Girl's Micro Fleece Pajama ...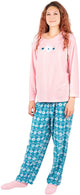 Women's 3-Piece Pajama Set

Girls' 2 Fleece Jogger Pants with Socks
At Maddog Concepts, we stand behind our products 100%. We work hard to ensure that our quality will exceed your expectations. We're so confident in our product, that if any product doesn't meet your expectations let us know and we will provide you with the best customer service ever!
Shipping time
Usually 2-6 days.
Contact us at support@maddogconcepts.com for more information.
** If you have purchased Maddog concepts at a retail location or outside vendor, please follow their return policy.